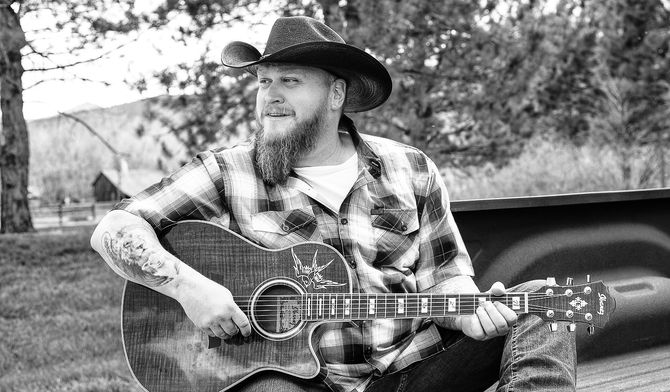 The songs on "Pulling Sorrow," Mike River's new record, were birthed on the streets of Boston, came of age on the Wind River Indian Reservation in the heart of Wyoming, and have been a lifetime in the making (well, okay, not literally a lifetime—River started writing these songs last year during the pandemic and Frankensteined them together in less time than it takes for a pregnancy to go full term, but you get the picture). 
Originally eleven tracks, "Pulling Sorrow" is streamlined with six of the best songs River has ever written. A flavorful mix of classic country and the finest Americana, the sound is represented exactly as River always envisioned when he first started putting on shows for the neighborhoods as a young kid with makeshift instruments on a stage that doubled as a bed (while his sister hid in the closet and played songs on a Holly Hobbie turntable).  
River says he opted to focus on the most refined and strongest of the bunch from the sessions for this record. "The others are great and may make future appearances," he explains, "but they just weren't quite ready for prime time." That approach, it turns out, is perfectly fitting for presenting this particular set of songs, which finds River in top form, reflecting all of the years he's spent refining his sound.  
With each outfit he fronted and every album he's recorded, as the tenacious tunesmith paid tribute to the people, places, and sacred stories of his past that populate his songs, River has honed the sound he's holistically hemmed together here on "Pulling Sorrow."   
With each release, River has come a little bit closer to crafting songs that sounded as good to him as the ones that meant so much to him growing up when friends were few and there wasn't much to do in the shadow of the Tetons but tune into an old transistor radio that transported him to another place every night after dark. On "Pulling Sorrow," River's progression is pronounced and profound. 
Nowhere is this evolution more evident than on songs like "Coke Stand," the closer here, which received a much rowdier rendering on "Last Call Scars," an album from Rexway, one of the River's previous bands. The cover art for that record features a cowboy breathing fire.  
As far as images go, you'd be hard-pressed to find a more fitting one to represent River's transformation on the tune from fiery frontman to thoughtful troubadour. Lyrically, the original song, penned about River's late father, a prolific pianist who paid his bills by crisscrossing the country playing piano bars, painted a penetrating portrait of a time tinged with regret.  
The raucous Rexway rendition paved over any pathos present with grinding guitars and vigorous vocals, while the revisited version strips the song down and puts its pained resignation in plain view. 
"This interpretation is what I had always envisioned for it when I first wrote it," River relates. "It's about watching my father struggle with addiction and trying to balance his passions for music while also trying to support a family and kids." 
Each one of River's songs paints an evocative picture of his life, past and present. Throughout the record, River sets up scene after scene with the descriptive flair of a seasoned screenwriter, offering up vivid vignettes that feel lived in and relatable.  
On "Sidewalks of Broadway," for instance, when he sings of "adult adolescents," that "convalesce on the sidewalks of Broadway," it's not difficult to picture the people with whom he is passing his time:  
"I run with the hellions, barflies, and ladies, the kings of this decadent strip/Outside as we roam, in bottles we trust, as we drink through a pain it can't touch/… There's a part of me broken, that I aim to deal with, tomorrow when I wake up/All that's forgotten in a transient family of vagrants, lovers, and drunks." 
"This song," River confides, "is about hiding the pains of life and attempting to heal yourself in the comfort of familiar strangers and alcohol," a theme he expands on in the follow-up track, "Liquor and Blood," a barroom bawler that breaches the brokenness that bears its face when the buzz finally wears off. 
"I've been caged in a bottle I couldn't climb out/Looking up, it ain't easy, I let your hand go somehow/This far down in the hole, there's no sign of blue skies/Just a black open hollow that will cut through your mind." 
River says "Liquor and Blood" is "A song about hopeless addiction, and how it causes you to distance yourself in what you perceive as an act of compassion, but in reality, it's just another jab of pain you inflict on those who love you." 
The remainder of the record finds River pulling from other parts of his life, which are every bit as interesting and unique as the music he makes. Born to a pair of real-life carnies who met in the shadow of the Midway and made a life together in Gloucester, Massachusetts, until it no longer made sense, River moved with his mom—a teacher who earned her master's degree in night school as a single mother raising two children on her own—to the Wind River Indian Reservation in Wyoming.  
Isolation was as plentiful as the alienation he felt finishing up middle school in the middle of nowhere. Although he remembers the reservation as a place where he watched his prized possessions, the albums, posters, and t-shirts of the music he collected as a kid, be torched in a religious fervor by the pious people with whom his devoutly religious mom surrounded herself, he also remembers the lifelong friends he made along the way.  
On "Wind River," River memorializes his ragtag crew, which called themselves "The Mouseketeers," singing of "surviving youth, riding the main street and dreaming of the future." 
In "Darker Side of Love" and "Fairest of All," River reflects on love lost and gained. The former was written for a friend that was going through a divorce. "He told me 'Write me one of those songs that'll make me cry and sum up this loss'. I started thinking about the various times I'd gone through divorce or breakups, and later that evening this song was born." 
Brace yourself: River isn't done chopping onions. On "Fairest of All," he sings of "the one they write stories about," pouring his heart out with a fondness that's distinctive and unmistakable, like only a father could. "My daughter is like a fairytale princess to me," River declares. "I asked her if she'd like to write a song with me, so I sat down and got started on this idea of 'she's the fairest of all the forests around,' and we built it from there. She helped me with the lyrics and melody. It's the first song we wrote together." 
That song, easily the standout track on an album full of standouts, features the honeyed vocals of Rachel Irvin, one of the many seasoned musicians River tapped to take part in "Pulling Sorrow," an album he pieced together individually like a puzzle.  
After recording vocal and guitar tracks, River sent the sparse recordings to the players (a stellar cast that includes Denver's patron saints of pedal steel, John Macy and Jeremy Lawton, who take turns making the music cry, Rhett Lee and Colin Burke of Carolyn's Mother, Craig Dubin, drummer of several of River's previous bands, Greg Gibb of Rubber Planet, and Braden Rauen) and asked them to play whatever they heard in their heads. 
From there, with the help of Tyler Duffus at Blackwater Audio, River stitched together the loose threads in a way that sounds inexplicably cohesive, the results of which most, if not all, of the musicians have yet to even hear themselves.  
Spoiler alert: They're all in for quite a treat—as are you.